Brush Coils and Cylinders

Versatile for many applications, uses for brush coils and cylinders include: Cleaning industrial conveyers - Wiping bakery belts - Washing golf balls - Applying paint - Sweeping roads - Washing fruits and vegetables - Peeling potatoes... just to name a few.
---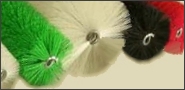 Wound Coils
Coils are mounted on shafts and can be motor driven, or for cleaning conveyors the can just run passively allowing the belts to rotate the coils.
---

Standard Coils
A line of standard coils, shafts and bearings are available. They include 3 1/2" and 4" diameters, up to 36" long, in soft, medium and stiff nylon fill material. Please us contact us for details.
---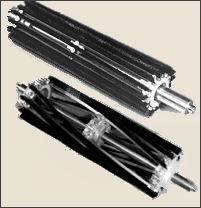 Straight and Spiral Cylinders
Straight or spiral brush strips are mounted onto special designed mounting hubs with standard arbors. Cylinder brushes are very a cost effective alternative to full face coils. Various hubs are available holding from 6 to 16 strips. The brushes are very easy to replace and are available up to 122".
A line of standard nylon brush strips and mounting hubs are available, please contact us for details.
---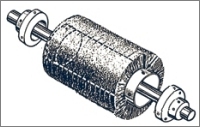 Coils on a Core
For larger outside diameters, coiled brushes can be mounted on a metal cores. The structural strength of a core also allows for longer brush lengths where a smaller diameter shaft would bend.
---